AMAZING ACTS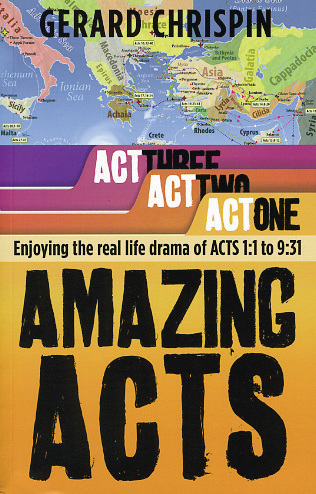 Enjoying the real life drama of Acts 1:1-9:31
By Gerard Chrispin
Evangelical Press / Christian Prison
Resourcing. 187 pages. £8.99
ISBN 978 1 783 970 803
We evangelicals love complexity. Commentaries become longer, training resources become more like degrees, and some sermons almost have footnotes.
What Gerard Chrispin has done is therefore extremely useful. He produces full Bible notes for individuals, or groups, or as part of a correspondence course (itself available at two levels), at an accessible level. This book is the first of three covering Acts, matching some prior studies on Mark.
Publishing for prisoners
The co-publishers are Christian Prison Resourcing, which explains everything. This series is designed to work within prisons or immigration centres. So the level has to be accessible, because it is for people who have… (to read more click here)
Chris Green,
vicar of St James,  Muswell Hill
Author of The Word of his Grace: Teaching and Preaching from the Book of Acts
This article was first published in the December 2015 issue of Evangelicals Now. For more news, articles or reviews, visit our website or subscribe to en for regular updates.