Things are not going to be better by Christmas. The pandemic continues.
The country is in trouble. The churches are under strain. We need help and encouragement. This ought to be one of those occasions when Christians give themselves to prayer in a concentrated form – perhaps for a day or half a day. But how do you do that – especially if you are not used to such things?
Here are some ideas to consider.
1. What's the point? An extended time of prayer at a time like this is for reflection, repentance and calling on God for His mercy.
2. Scheduling the time and place. Make a date in your diary. Find a place where you can be quiet and alone. This may be in your own house or at a friend's who is out for the day.
3. Make a worry list. Sometimes all that will happen if you have time on your own is that your mind will fill with your problems and your worries – and there is a danger of spending the day focused on them instead of on God. So beforehand write down your worries. Then say to yourself: 'I will pray through them for a limited time – but I'm not going to let them dominate the day.'
4. Take some equipment. Think through what you might need. You will need a Bible and a pencil and paper. You will need some lunch, etc.
5. How to stay alert. Make sure that you get adequate rest the night before. When you are engaged in your extended time with God change positions – sit for a while then walk around, and so on. Have variety in what you do. Read the Bible, pray, sing a hymn. Praying in a soft voice will help you to concentrate and save you from your thoughts wandering.
6. Taking notes. If while you are praying you feel the Holy Spirit impressing something on your heart, write it down for further thought.
7. What has happened? Don't feel you must end the day with some amazing discovery or palpable life-changing experience. Remember that prayer is about waiting on God (Ps.27.14), not Him fulfilling your agenda.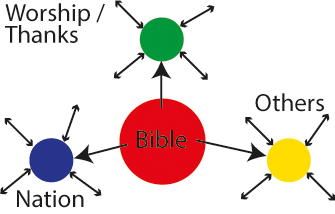 It can be good to start by thinking in terms of three one-hour slots. Use an A4 sheet of paper. In preparing, select a few verses or a passage of Scripture which will act as your compass for the day. You can focus your thoughts around those verses and keep coming back to them if your mind wanders. At the centre of the A4 sheet draw a fairly big circle and copy your verses into it.
Then around that centre circle draw three other circles. Each of these circles will represent an hour in prayer. So you choose three areas to pray over. They might be: 1. Worship/thanksgiving; 2. The state of the nation; 3. Other people.
Or they could be completely different things which you feel you need to pray through. Say: 1. Family; 2. Church leaders; 3. Church.
Label your circles. Then from each of the three surrounding circles draw five lines (or spikes). At the end of each line name a person or a situation related to the subject of this circle. You are then going to spend ten minutes praying for each of those. Of course, five x ten minutes doesn't quite make a hour. But that gives you leeway to stretch your legs or to pray about some other matter which the Lord might bring to mind as you pray through the subject.
After each hour in prayer give yourself a break. After the first circle have a half-hour coffee break. Or go and clean the house. Or do some physical exercise if that helps to refresh you. After the second circle it may be lunch time – take an hour, relax or read. Then it's time for the third circle. Again, follow this with a tea break or similar.
A fourth hour is good. Here you can leave the circles behind. Maybe go for a walk to pray. There may be things on your spikes you feel you need to pray for again. You may want to pray through your worry list at this point. There may be other things that God has brought to your attention. It is always good to finish this time with a few moments in worship and thanking God for who He is – Father, Son and Holy Spirit, one God forever.
John Benton
John Benton is Director of Pastoral Support at The Pastor's Academy, http://www.pastorsacademy.org